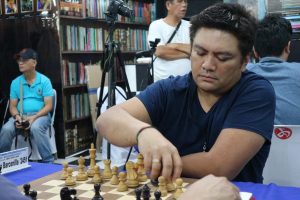 by Marlon Bernardino
MANILA, Philippines—Grandmaster Rogelio "Banjo" Barcenilla Jr. destroyed National Master Edsel Montoya in their rapid duel to power Laguna to a 14.5-6.5 thrashing of Lapu-Lapu City in the third conference of the Professional Chess Association of the Philippines (PCAP) Wednesday, October 6, 2021 virtually held at Chess.com Platform.
Barcenilla, who has topped the last two Battles of the Grandmasters, overpowered Montoya in 55 moves of an English Opening to lift the Heroes to their second win at the start of the second round. The Lapu-Lapu City Naki Warrios slipped to 0-2.
"GM Banjo's play was always razor-sharp, rational and brilliant." said Arena Grandmaster Dr. Fred Paez, one of the four co-team owners of the Laguna Heroes that include Mr. David Nithyananthan of KALARO, Engr. Benjamin Dy of SDC Global Choice and Engr. Jonathan Mamaril of Oregon, USA.
Also delivering for Laguna backed up by Greatech Philippines, Inc., SDC Global Choice, Jolly Smile Dental Clinic, KALARO and Rotary Club of Nuvali were Grandmaster John Paul Gomez, FIDE Master Jose Efren Bagamasbad and Candidate Master Arjie Bayangat.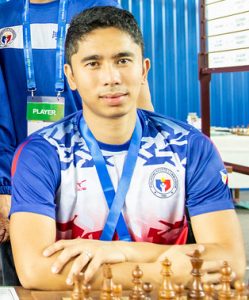 Gomez (photo above) routed National Master Elwin Retanal in 42 moves of a French defense, Bagamasbad trounced National Master Lincoln Yap in 38 moves of a French defense while Bayangat checkmated Bryle Arellano in 41 moves of a London System Opening.
Meanwhile, Michella Concio halved the point with Woman International Master Bernadette Galas in 31 moves of a Sicilian defense while Kimuel Aaron Lorenzo drew with Allan Pason in 32 moves of an English Opening.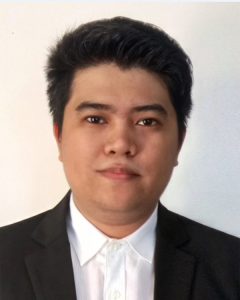 Michael Joseph Pagaran (photo above) carried the fight for Lapu-Lapu City in the rapid event after beating Vince Angelo Medina in 61 moves of a Trompovsky Opening.
According to AGM Fred Paez, Laguna Heroes beat Lapu-Lapu City Naki Warrios, 4.5-2.5, in blitz format and 10-4 victory in the rapid play.
Earlier, Laguna routed Negros, 14.5-6.5, while Lapu-Lapu City yielded to Pasig, 5-16.
Other second-match results saw San Juan nip Negros, 14-7, Pasig outclassed Surigao, 11-5-9.5, Manila crushed Palawan, 15-6, Isabela outpointed Toledo, 11.5-9.5, Caloocan beat Camarines, 16.5-4.5, Rizal subdued Mindoro, 15-6, Olongapo edged Penang, 11.5-9.5, Singapore trounced Pengcheng, 19-2, Paralympic defeated Bangkok, 12.5-8.5, Davao dismantled Sunrays, 15.5-5.5, and Iloilo toppled Pampanga, 16.5-4.5.
In other key matches in the first matches of the evening's double-header, San Juan bested Iloilo, 15-6, Manila subdued Surigao, 12-9, Isabela crushed Palawan, 13-8, Caloocan beat Toledo, 14.5-6.5, Camarines dealt Rizal, 12-9, Mindoro whipped Olongapo, 13-8, Penang outpointed Pengcheng, 18-3, Singapore routed Bangkok, 12.5-8.5, Paralympic whipped Davao, 14-7, and Pampanga smashed Sunrays, 14-7