The Auckland Chess Festival
by Paul Spiller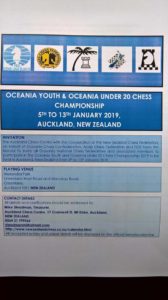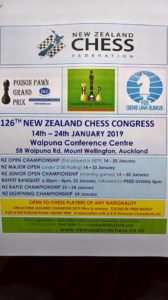 A chess festival will be held in NZ's largest city of Auckland in January 2019.
This will comprise three separate events, the 1st Oceania Youth and Under 20 Championships in 7 age groups, the George Trundle Masters and the 2019 New Zealand Open Chess Championships.
The inaugural Oceania Youth event, sponsored by the Auckland Chess Centre,  will offer the possibility of awarding automatic FIDE titles and it is anticipated that a large number of Australian junior players will compete. The Asian Federation will also allow players from New Caledonia and French Polynesia to complete thus making the minimum three federation requirement achievable.
The tournament will be held at the Alexandra Park Trotting Club in Greenlane, Auckland. Concurrent with this tournament will be the George Trundle Masters, a long standing Masters event which will be held at the Auckland Chess Centre club rooms in Mt. Eden. Next year's event will be the first time that it will offer the possibility of GM norms with three grandmasters now confirmed. These are GM Darryl Johansen (Australia), GM Vasily Papin ( Russia) and GM Timur Gareyev (USA).
These three GM's will also compete in the New Zealand Open Championships that will start directly after the George Trundle Masters on January 14th at the Waipuna Conference Centre in Mt. Wellington, the venue of many major chess events in the past.
More information can be found at: http://www.newzealandchess.co.nz/