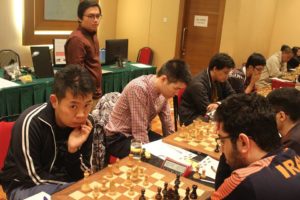 China Super GM Wang Hao is sole leader of the 15th Dato' Arthur Ran Malaysian Open after defeating GM Idani Pouya in Round 8.
GM Oliver Dimakiling outplayed GM Susanto Megaranto in a 4 Queen endgame to set up a meet with Wang Hao in the final round.
Previous round leader GM Firoujza Alireza drew against IM Tran Tuan Minh so the former joins GM Oliver Dimakiling both half a point Wang Hao.