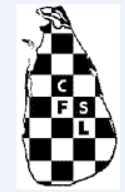 The 9th Sri Lanka Chess Grand Prix 2022 has started at the Chess Federation of Sri Lanka with the participation of 18 players. Unfortunately all top players opted out since most of them are tired after a series of Chess events in the last part of 2021.
The Chess Federation is offering Rs. 150,000/- as cash awards for the event slated 14th to 22nd February 2022 at CFSL headquarters, Nugegoda.
The event is played in two groups A & B in 9 round Round robin events as stage I and top two players of the each event will play a knock out event as below in the final stage.
1. Semi Final I – A! Vs B2
2, Semi Final 2 – B1 Vs A2
3. Finals – Winner 1 Vs Winner 2
4. Consolation Finals – Loser 1 Vs Loser 2
In the knock out stage, two games with white and Black per player is played, If the result is 1 – 1, Two Rapid Games with 15m + 10 seconds are played with alternating colours. If still equal, two Blitz Games are played with 3m + 2 seconds and if still tied an Armageddon game giving 5 minutes to white and 4 minutes to Black will be played and Black wins if the game is drawn.
CFSL has offered the following Cash awards with the medals and certificates:
Champion – Rs. 60,000/=
Runner -up – Rs. 40,000/=
3rd – Rs. 25,000/=
4th – Rs. 15,000/=
5th – Rs. 10,000/=
The live Games can be taken from
Public links to tournaments
Grand Prix – A (9th Sri Lanka Chess Grand Prix 2022 – Group A)
Grand Prix – B (9th Sri Lanka Chess Grand Prix 2022 – Group
Grand Prix 2022 Group A
Buddhika Amarasinghe 9901809
Osheen De Silva 9902252
Vinuda Shenal Gunatilake 9967966
A.A.Kavishka Gimshan Laksiri 9982825
Surath Wijerathne 9916792
W.D Malisha Weerathunga 9970410
Dinod Uthsada Abeyrathna 9993258
Thamidu Upeksha Wadduwage 29950430
Bimansa Jayandi 29946697
Piyumi Uthpala Amarathunga 29954630
Group B
S Sivathanujan 9977104
Pesandu Rashmitha Liyanage 9947876
Gnanaseelan Jude Dorison 9960520
Kosala Sandeepa Amarathunga 29970954
Pamok Samaranayake 29946158
Geenuka Kavinu Gunaweera 9998624
Weheragoda HA Menula 9966137
Sathini Disathna Liyanage 29974771
Ginuri Kannangara 9954813
Upeksha LHI 29950422