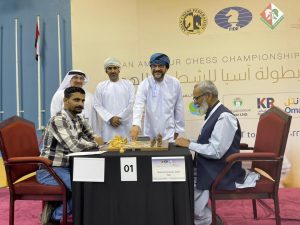 A record 197 players from 20 countries are competing in the Asian Amateur Chess Championship Open and Women's 28 Sep – 06 Oct 2022 at the Sultan Qaboos Sport Complex in Muscat, Oman. Visit chess-results.com for round by round standings and results.
In photo above and below, Muscat Mayor Ahmad Al-Homeidi makes the ceremonial moves at the Open (above) and Women's sections (below). Standing are Tournament Director IA Abdulrahim Mahdi (left) and Oman Chess Committee president Ahemd Bin Darwish Al Bulushi.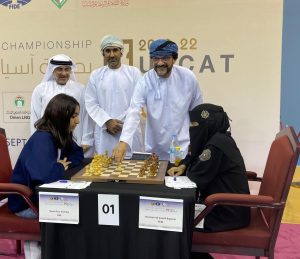 Watch live games at:
ASIAN AMATEUR CHESS CHAMPIONSHIP ( Open ):
https://view.livechesscloud.com/#86f199b3-b33a-4574-9d4b-2945f80abcfe
ASIAN AMATEUR CHESS CHAMPIONSHIP ( WOMEN ):
https://view.livechesscloud.com/#5687e9a3-1ae2-455d-8b3a-7e48dcd9e858
The tournaments are 9-round Swiss System events with standard time control of 90 minutes with the addition of 30 seconds
per move starting from the first move. Games are scheduled 5pm with additional morning sessions at 10am on 30 Sept and 2 Oct.  At stake are cash prizes as follows: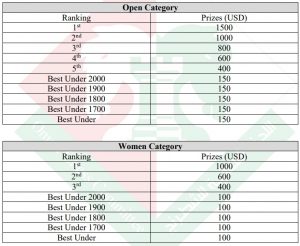 The tournament is technically supervised by the international organizer, IA/IO Mahdi Abdul Rahim, and the Arbiters committee is headed by Mehrdad Pahlevanzadeh, and a number of Omani internationals are participating in the jury, namely (Muslim Al-Wadahi, Khaled Al-Hadidi, Hamdan Al-Hinai and Ruqayyah Al-Balushi).
The organizing committee aims to enhance the Sultanate's position as a primary destination for participating in international sporting events and to support and enable the people of the Sultanate to participate in such a sporting event, thus enhancing their confidence in themselves as players, athletes, referees and organizers at a global level.
Participating countries are: