Sixteen year old Susal De Silva of Nalanda College won the Sri Lanka National Chess Championship after a heavy battle of 4 hours with his rival Ranindu Dilshan Liyanage of Ananda College, the National Chess Champion 2020. Susal at 10 ½ points was leading a half a point ahead of Ranindu who had 10 points after the penultimate round. He managed to get the needed half a point in the final round against Ranindu and made his maiden National Chess Championship. Susal received Rs. 100,000/= in cash with the Gold Medal and the Championship Trophy.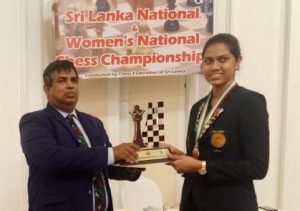 Niklesha Tharushi of Visakha Vidyalaya won the Women's National Chess Championships convincingly. After a poor start, losing 1st two games Niklesha came back strongly to score 9 points points out of 13 games. Niklesha beat Chethani Chamathka, Esha Pallie, Oshini Gunawardena, Sayumi Gamage, Nemindi Ramanayake. Oneli Vithanawasam, Esandi Newansa, Desandi Gamage and drew with Janandani Abeysinghe and HMRMK Rathnayake and lost three games to Dasuni Hansika Mendis, Chanindi Attanayake and Tharuli Ranganath. Niklesha received Rs. 60,000/=, Gold Medal and the Championship trophy.
Ranindu Dilshan Liyanage (Ananda College) also had a good event where he dropped only 4 draws and scored 11 points. He was awarded the Silver Medal with Rs. 50,000/=.
Young Thumula Kiriella (Ananda C) did extremely well to win the 3rd place at the Chess Nationals this year. He performed remarkably well and scored 8 points to get the 3rd place with Rs. 30,000/=.
Young Esandi Newansa of Dharmasoka College also did excellent to win the Silver Medal and Rs. 30,000/= with 8 ½ points out of 13 games.  She beat Dasuni in the penultimate round which resulted so many changes happened after the last round.
Dasuni's poor score on the final day, losing  2 games make her out of Championship, but she made her for the Bronze Medal with 8 points to get Rs. 20,000/= with the Bronze medal.
The selected top 14 players each participated in the each category of the SL National Chess Championships 2021 which was held on the round Robin basis in 13 rounds. The Classical Chess format of 90 minutes with 30 seconds increment from move one was the time control and the winners were crowned as the National Chess Champions for the year 2021. The Event was held from 24th to 30th December 2021 at the Taj Samudra Hotel, Colombo on Thursday with the awards ceremony held as Mr. Luxman Wijesuriya, the President of Chess Federation and Vice President of Asian Chess Federation  as the Chief Guest.
Visit chess-results.com for men's and women's results.