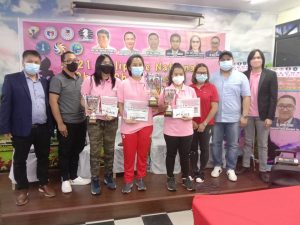 by Marlon Bernardino
MANILA—Woman Grandmaster Janelle Mae Frayna crowned herself as the champion in the 2021 Philippine National Women's Chess Championship at Philippine Academy for Chess Excellence (PACE) headquarters in Mindanao Ave., Project 6, Quezon City on Thursday (Dec. 23).
Frayna capped another memorable campaign with a brilliant final-round victory over Woman FIDE Master Shania Mae Mendoza in 43 moves of King's Indian Defense. The top-seeded Frayna outplayed the second-ranked Mendoza in the opening to snatch a pawn edge, seal the win and claim her third national women's title after reigning supreme in 2013 and 2016.
"It's been a while since I won here because I focused on competing in the men's event the past several years," said the 24-year-old Frayna. "It was a tough field and I'm glad I won," she added.
But the impressive performance was not without a hitch as Frayna needed to overcome an opening round defeat to 13-year-old wunderkind Woman National Master Ruelle Canino.
The loss turned out to be a blessing in disguise as it lit a fire inside Frayna, who scored 7.5 points highlighted by six victories since then to run away with the championship, the top purse worth P50,000 and a berth in the Hanoi Southeast Asian Games in May next year.
"She (Canino) is a good player and could be the future of Philippine chess. She beat me, no excuses," said Frayna. "It was a wake up call for me and I decided to go for the win each game."
Frayna ended up finishing a full point  ahead of eventual runner-up Woman International Master Kylen Joy Mordido, who is a third and last result away from following the former's footsteps as the country's second WGM.
The 19-year-old Mordido halved the point with Cebu pride Marian Calimbo in 34 moves of an English Opening.
The Dasmarinas, Cavite bet went for the win and, in fact, seized a slight positional advantage. But Mordido saw Frayna seal the deal, making it moot for her to just draw.
Mendoza slipped to joint third with third pick Jan Jodilyn Fronda, who split the point with Woman International Master Marie Antoinette San Diego, with six points apiece but clinched third place via tiebreak.
Rounding out the rest of the placings were San Diego, Woman International Master Bernadette Galas, Woman National Master Rinoa Mariel Sadey, Woman FIDE Master Allaney Jia Doroy, Canino, Woman National Master Lexie Grace Hernandez and Calimbo.
The event was backed by PSC chair Butch Ramirez, Chess Movement, Inc. chair Dr. Ariel Potot, PCSO general manager Royina Garma, Endgame Sports Founder Atty. Cris Aspiras, POC President Bambol Tolentino, NCFP head Butch Pichay, Atty. Roel Canobas and Barkadahan Para sa Bansa party list nominees Petchi Ragos and Secretary-General Atty. Juman Paa.
In photo, the top three winners in the 20201 National Women's Chess Championship — WIM Shania Mae Mendoza (3rd), WGM Janelle Mae Frayna (Champion), WIM Kylene Joy Mordido (2nd) — pose with NCFP CEO GM Jayson Gonzales, Chess Movement, Inc. chair Dr. Ariel Potot,  Barkadahan Para sa Bansa party list nominees Petchi Ragos and Secretary-General Atty. Juman Paa and IA Reden Cruz during the awarding ceremony on Thursday (Dec. 23, 2021).