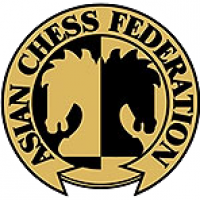 The Asian Online Nations Cup Chess Team Championship reels off 10 October 2020 in the Chess.com platform with 39 teams in the Men's division and 31 teams in the Women's division.
The tournament will start with 9-round Swiss System preliminaries in separate divisions. The top eight qualify to the knockout stage of Quarterfinals, Semifinals and Finals. Each stage shall be a duel of two matches with colors reversed. At stake are $20,000 in cash prizes and gold, silver and bronze certificates for best individual board performance in the Swiss system preliminaries. The tournament is supported by the FIDE Development Fund and Asian Chess Federation. Download Asian Online Nations Cup 2020 Regulations
India, fresh from its victory in the FIDE Online Olympiad, is top seed in both the men's and women's divisions by average Rapid rating of the four highest rated players per team. Time control is 15 minutes + 5 seconds increment per move for the entire game.
Visit chess-results.com for team composition and seedings for both divisions. Players will be proctored on Zoom with three teams in each breakout room under the supervision of an Arbiter.
Games are scheduled weekends from 10am (UAE time GMT+4). Watch this site for links to follow your favorite teams.
Saturday  Oct 10
10:00     Men Rd. 1
11:00     Men Rd 2
12:00     Men Rd 3
Sunday  Oct 11
10:00     Women Rd 1
11:00     Women Rd 2
12:00     Women Rd 3
Friday  Oct 16
10:00     Men Rd 4
11:00     Men Rd 5
12:00     Men Rd 6
Saturday  Oct 17
10:00     Women Rd 4
11:00     Women Rd 5
12:00     Women Rd 6
Sunday  Oct 18
10:00     Men Rd 7
11:00     Men Rd 8
12:00     Men Rd 9
Monday  Oct 19
10:00     Women Rd 7
11:00     Women Rd 8
12:00     Women Rd 9
Friday  Oct 23
10:00     M&W QF
11:00     M&W QF
Saturday  Oct 24
10:00     M&W SF
11:00     M&W SF
Sunday  Oct 25
10:00     M&W Finals
11:00     M&W Finals