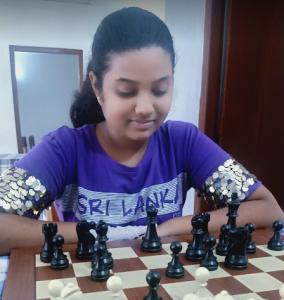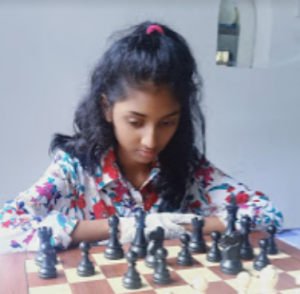 Dahamdi and Ehsha enter the Grand Finals!
After a hard battle of almost twelve hours Chess, both champions of Group X and Y win the semi -finals of the 2nd Sri Lanka Youth Girls (Under 14 Yrs) Chess Grand Prix today.
Oneli Vithanawasam (Lyceum International School, Wattala) won the first game of the Semi Final 1 with Sandula Dahamdi of Musaeus College (above left) who was unbeaten up to the round making the event more competitive. But, Dahamdi made it equal by winning the 2nd round and led it to the first tie break of two rapid games. In the rapid round, Dahamdi won both games convincingly to earn the Finals.
Ehsha Pallie of Visakha Vidyalaya (above right) won the first round but lost the second game against Desandhi Dhihansa Gamage (Sirimavo Bandaranaike Vidyalaya) making the battle more competitive. In the rapid round, Ehsha strongly scored 2 out of two games and made it to finals successfully.
The 2nd Sri Lanka Youth Girls (Under 14) Chess Grand Prix 2021 was conducted by the Chess Federation of Sri Lanka among leading 18 under 14 Yrs Girls Chess Players in the Country. The event was held in two stages where the 18 players were divided to two groups and played two round Robin Events. The top four players in the two groups met in a knock out event as Quarter Finals, Semi Finals and Finals. The Chess Federation of Sri Lanka has offered a total Prize fund of Rs. 55,000/= for the winners of the event.
Dahamdi will meet Esha in the Grand Finals tomorrow at 9.00 a.m. the 2nd Round of the Finals will start at 3.00 p.m. The Consolation finals also will be held at the same timings with Oneli meeting Desandi. If the results are tied with 1 each, two Rapid Chess Games of 15 Minutes + 10 second will be played. If still ties, two Blitz Games with 3 minutes + 2 Seconds will be played. If still the score is 1-1, an Armageddon Game giving 5 minutes to white and 4 minutes to Black will be played. The Draw in this game will be considered as a win for Black.