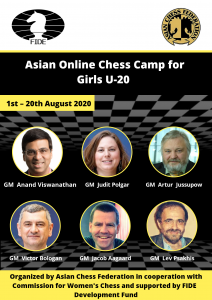 To all National Chess Federations in Asia
You are invited to participate in the Asian Online Chess Camp for Girls Under-20.
Organized by ACF in cooperation with WOM and FIDE Development Fund support, the camp will be held online, via Zoom, from the 1st to the 20th of August 2020.
Every National Federation can nominate one female player U-20 (born in 2000 or later).
You will find attached the schedule of the camp.
Note:
-The Camp will be in English.
– Each player must use her real name (in English ) to log in to the Zoom meetings.
– Video recording of the lectures is not allowed.