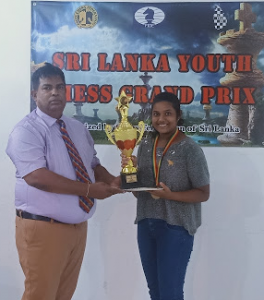 Sandula Dahamdi of Musaeus College (receivng award above) won the first game and had a draw in the second game against her strong opponent Ehsha Pallie of Visakha Vidyalaya (photo below) and won the event without getting tie.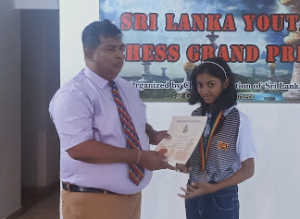 Throughout the event, both Dahamdi and Ehsha played good chess and performed really well by making the event more competitive.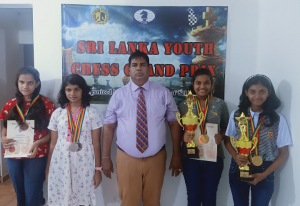 Oneli Vithanawasam won the first game and had a draw in the second game against Desandhi Dhihansa Gamage and marked the 3rd place of the event.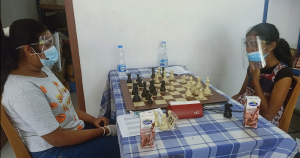 The prestigious 2nd SL Youth Girls Chess Grand Prix 2021 was held  from 2nd to 18th April 2021 with 18 leading Girls Under 14 Years Chess players. There were 2 Round Robin 9 rounds events played from 2nd to 10th April after dividing them to two groups of equal strength in Rating. The knocked out stage started with the Quarter finals and continued on 17th and 18th April with the Semi Finals and Finals.
The Chess Federation of Sri Lanka is offering Rs. 55,000/= as the cash awards for the event. All games were live broadcasted.
The event is held according to the strict health guidelines provided by the Ministry of Health and The Medical Unit of Ministry of Sports. The following regulations should be adhered:
A directory of participants is kept.
Facilities for fever checking, Hand washing are available. Players should come wearing a Face masks
Gloves and face shields are provided by CFSL and players should wear them all the time they stay in the venue.
The social distancing should be adhered. Tables are arranged that way as 1 game per table.
No spectators, parents are allowed in the venue. They can drop the players at the venue and may come back to collect after the game.
Player gathering after the games is strictly prohibited.
WIM Nelunika Metmani