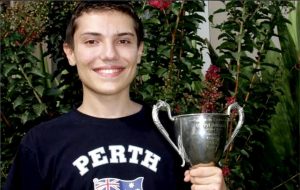 It was the first hybrid chess Zonal in Asia, conducted by the Zone President Paul Spiller and Oceania Chess Confederation under the auspices of FIDE and the Asian Chess Federation. Players could use traditional boards to think over their moves before uploading on their laptop. Full standard time control applied. All were under the watchful eyes of Local Chief Arbiters and overall Zonal Chief Arbiter Dr. Peter Tsai and Deputy Chief Arbiter IM Leonid Sandler.
GMs Anton Smirnov and Temur Kuybokarov, both of Australia, ended up in a tie after the round robin. Watch the coverage of the exciting tie-break on Twitch.
Chief Arbiter Dr. Peter Tsai sent the following report. Chief Technical Arbiter was David Esmonde and games were played on AuNix platform. More than 20 arbiters supervised 8 players. Many hours of Zoom meetings were held before the event. It was the first online armageddon game in hybrid chess. Top two Australian Grandmasters competed and more than 90 percent were decisive games.
2021 Oceania 3.6 Championship
Hybrid - 20/03/2021, 28/03/2021

 Cross Table

 Pos   N NAME                 Elo   T  Fed   Pts  |  1   2   3   4   5   6   7   8         Prizes
----------------------------------------------------------------------------------
  1   3  Smirnov,Anton        2597  GM AUS   6.5  |  *   ½   1   1   1   1   1   1      Eq 1st US$1,750
  2   4  Kuybokarov,Temur     2530  GM AUS   6.5  |  ½   *   1   1   1   1   1   1      Eq 1st US$1,750
  3   6  Croad,Nic            2316  FM NZL   5.0  |  0   0   *   1   1   1   1   1      3rd    US$1,000
  4   7  Prudente,Elmer       1991  CM GUM   3.5  |  0   0   0   *   ½   1   1   1      4th    US$500
  5   5  Sikivou,Taione       1830  CM FIJ   2.5  |  0   0   0   ½   *   0   1   1  
  6   8  Dabuae,Thubalkain       0     NRU   2.0  |  0   0   0   0   1   *   1   0  
  7   2  Resture,Fred         1797     SOL   1.0  |  0   0   0   0   0   0   *   1  
  8   1  Salvadora,Angelo     1730     PLW   1.0  |  0   0   0   0   0   1   0   *
2021 Oceania Zonal 3.6 Playoff
GM Anton Smirnov  (AUS)
GM Temur Kuybokarov (AUS)

                           Time Control                             Round        White          Score        Black
                   25 min + 10 sec from move 1                        8        Kuybokarov      0.5:0.5      Smirnov
                                                                      9         Smirnov        0.5:0.5     Kuybokarov
                   10 min + 10 sec from move 1                       10        Kuybokarov       0 - 1       Smirnov
                                                                     11         Smirnov         0 - 1      Kuybokarov
                    5 min + 3 sec from move 1                        12         Smirnov        0.5:0.5     Kuybokarov
                                                                     13        Kuybokarov      0.5:0.5      Smirnov
    Armageddon (W: 5 min B: 4 min) + 2 sec increment after 60        14        Kuybokarov       1 - 0       Smirnov