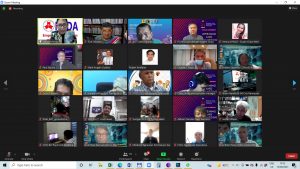 by Marlon Bernardino
MANILA, Philippines— The Professional Chess Association of the Philippines held Awards Ceremonies today 15th September 2021 for the 2nd PCAP series.
Iloilo Kisela Knights clinched the second Professional Chess Association of the Philippines (PCAP) title dubbed as GM Wesley So Cup after beating San Juan Predators in their two-leg encounter, 13-8 (first set) and 11.5-9.5 (second set) in the grand finals last month virtually held at chess.com platform.
"It really was a team effort from start to finish. The team's hard works did pay off tonight and more success to come as the team continue to improve individually and as a team. Congratulations," said Iloilo Kisela Knights Team Owner Leo Sotaridona.
13-time Philippine Open Champion Grandmaster Rogelio "Joey" Antonio Jr., Woman FIDE Master Cherry Ann Mejia, National Master Fritz Bryan Porras and National Master John Michael Silvederio delivered victories for Kisela Knights after beating Sub-import Spanish Grandmaster Victor Moskalenko, Woman International Master Jan Jodilyn Fronda, Grandmaster Oliver Barbosa and Narciso Gumila ruled the rapid play, 11-3, in the first set.
Sub-import Armenian Grandmaster Hovhannes Gabuzyan, National Master Cesar Mariano and Dennis Bermas also contributed a draw.
San Juan Predators edged Iloilo Kisela Knights, 5-2, in the first set blitz game on triumphs by Moskalenko, Fronda, Barbosa and Narquingel Reyes while draws by IM Ricardo de Guzman and Gumila.
In their second set blitz encounter, Gabuzyan, Mariano, Silvederio and Porras won their matches and draw by NM Karl Victor Ochoa spearhead Iloilo Kisela Knights into a 4.5-2.5 victory. The rapid play ended up in a 7-all deadlock