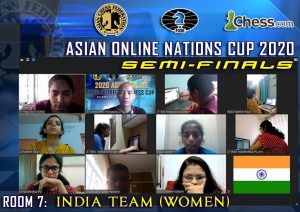 India convincingly ousted Mongolia while Indonesia edged out the Philippines to reach the final stage of the Asian Online Nations Cup in Chess.com. Replay games on chessbomb. Visit chess-results.com for individual results and to download games. Follow @Asianchess on twitter.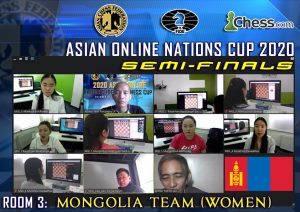 India outclassed Mongolila 3.5-0.5 in the first SF round on wins by WGM R. Vaishali, IM Padmini Rout and WGM P.V. Nandhidhaa over Mongolians IM Batkhuyag Munguntuul, WIM Bayarjargal and WIM Boldbaatar Altantuy, respectively. Davaakhuu Munkhzul saved Mongolia from a shutout by holding WGM Mary Ann Gomes to a draw.
The team playing catch up usually overextends themselves and in the second round India blanked Mongolia 4:0 to seal their place in the final.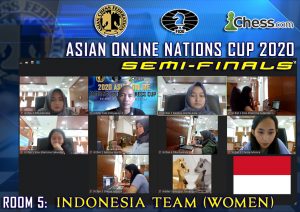 Indonesia edged the Philippines 2.5-1.5 in the first round on the sole win by very strong Chelsie Monica Sihite over Bernadette Galas as the other three boards were drawn.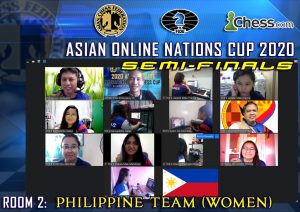 In the second round, Indonesia again edged the Philippines 2.5-1.5 on wins by IM Irine Kharisma Sukandar and Medina Warda Aulia against WGM Janelle Mae Frayna and WIM Jan Jodilyn Fronda. Kylen Joy Mordido countered fore the Philippines over WIM Dita Karenza while  the board 3 game was drawn between Shania Mae Mendoza of the Philippines and Chelsie Sihite of Indonesia.