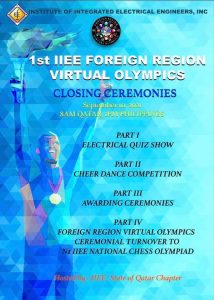 by Marlon Bernardino
MANILA, Philippines—The 2nd season of the N1 IIEE National Chess Olympiad will be underway on September 10, 2021.  There will be 24 chapter teams which are bracketed into 4 based on the team average LiChess ratings of its 4 players.  There will also be 10 Regional teams that will play for the Olympiad that comprises of over 200 players.  There are 2 NMs (Robert Arellano and Dennis  Gutierrez) and more than 50 players with above 2000 ratings who will be vying for the individual honors and championship crown to be defended by the IIEE Southern Laguna Chapter.  The tournament will be until November 19, every Friday night and the awarding will be done during the IIEE Annual National Convention on November 27, 2021.
Bracket A: Metro South, Cagayan de Oro (CDO), Southern Laguna (SLC), Central Region CHapter Saudi Arabia (CRCSA), Iloilo and Visayas Team.
Bracket B: Camarines, Metro Central (MCC), Cebu, AUH-UAE (Abu Dhabi/Emirates), Northen Cavite (NCC0 and Southwest Mindanao Team
Bracket C: Metro West (MWC), Bulacan, La Union (CKAB, etc.), Metro East (MEC), Western Region Chapter Saudi Arabia (WRCSA) and Southern Tagalog Team
Bracket D: Eastern Region Chapter Saudi Arabia (ERCSA), Bahrain, Central Laguna (CLC), Bataan and Metro North (MNC).
There are 6 teams from the Foreign Region in the National Chess Olympiad.  This online chess is fostering camaraderie and friendship through among the IIEE members of both local and that of the Foreign Region.  For the Foreign Virtual Olympics, the driving force behind it was initiated by IIEE Foreign Governor Orlando T. Villapaña, Jr. thereby bridging the geographical locations of the participating chapters and counter the restrictions due to the COVID -19 pandemic hence the sports competitions are carried out virtually.
It was open last July 23, 2021 hosted by IIEE-State of Qatar Chapter and the 8-week event drew enthusiasts of Chess, Scrabble, Mobile Legends, Darts, 3-Point Shoot Out, Skill Challenge, Chant/Yell, Pictionary, Name that Tune, Electrical Quiz and Cheer Dance together in one virtual arena to battle it out for the overall championship.
Twelve chapters; IIEE-ERCSA, IIEE-WRCSA, IIEE-CRCSA, IIEE-SQC, IIEE-UAE, IIEE-BAHRAIN, IIEE-SINGAPORE, IIEE-KUWAIT, IIEE-NWRCSA, IIEE-ABU DHABI, IIEE-SOC and IIEE-CIC put their game faces on to uphold team honor and pride under the spirit of friendly competition.
The closing ceremonies will be held on September 10, 2021 with two events yet to be conducted, Electrical Quiz Show and Cheer Dance Competition. Awarding ceremonies will immediately ensue to officially proclaim the winners of individual events and declare the overall champion of the First IIEE Foreign Region Virtual Olympics.  After which, the Olympic torch will be virtually handover to IIEE National for the conduct of the on-line chess via LiChess.