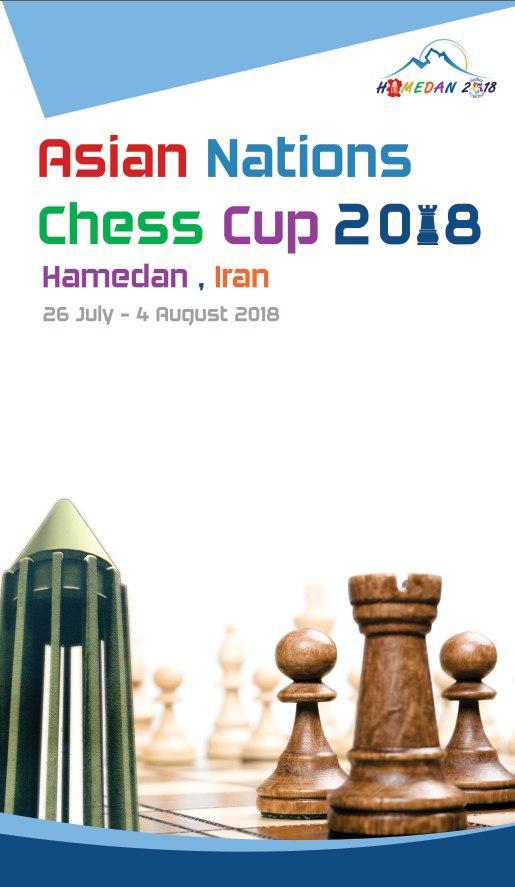 In the end the Asian Nations Cup 2018 proved to be a huge success for hosts Iran with a sweep of all three Golds for their men and a Bronze for their women in Rapid Chess.
Overall China took the most medals – getting something in every category, their women getting two Golds and one Bronze while the men took two Silver and one Bronze.
India's men got one Silver and one Bronze while their women got one Gold, one Silver and one Bronze.
Men
http://chess-results.com/tnr366602.aspx?lan=1&art=0&turdet=YES&flag=30
The Asian Nations Cup saw the young team from hosts Iran replicate in Standard Chess their earlier success in Rapid Chess with a powerful performance that left Asia powerhouses China and India essentially just fighting for second place.
Iran beat all their rivals convincingly and with first place already secured was even able to make a short draw with their second team in the penultimate round.
China sent their B team and paid a heavy price when India who were represented by a mix of A and B players snatched the Silver on tie-break, both teams finishing a point ahead of a very competitive Kazakhstan Olympiad side and the Iran B team.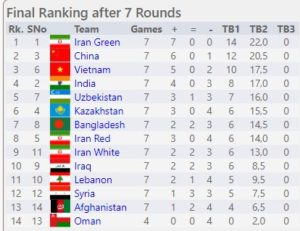 In the final Blitz event, Iran completed a clean sweep and this time China was second and Vietnam got their first medal, taking third place for Bronze.
Women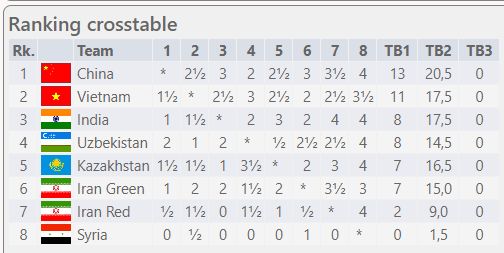 http://chess-results.com/tnr366780.aspx?lan=1&art=20&snr=2&turdet=YES&flag=30
Except for a surprise draw with Uzbekistan, it was really a stroll for the China team, like India, fielding a mixture of A and B players, as they won all their other matches.
Vietnam put up the biggest challenge in taking Silver, narrowly losing to China and only held to one draw by Iran.
Surprisingly India was unable to mount a challenge, but took Bronze on tiebreak over Uzbekistan and this result has to be considered to be a failure for the No. 2 ranked Asian chess nation who are looking to mount a medal challenge at the coming Batumi Olympiad.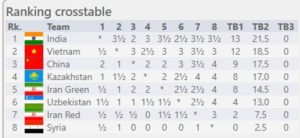 India's however managed to take Gold in the Blitz which closed off the championships, the Vietnamese women going one better than their men with Silver and China taking Bronze.