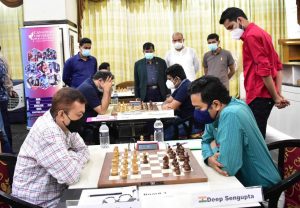 Games of the Joytu Sheikh Hasina International Grandmasters Chess Tournament 2021, sponsored by the Canadian University, Bangladesh and organised by Bangladesh Chess Federation began (Sunday) at 3:00 PM at Amrokanon, Level-9, Hotel 71, Shahid Nazrul Islam Sarani, Bijoy Nagar, Dhaka.
In the first round match, Bangladesh's FIDE Master Sheikh Nasir Ahmed created a stir by defeating India's Grand Master Deep Sengupta. Today. FIDE Master Nasir started the game in the English opening with white pieces, the game continued to Anti Catalan Defense and he won against India's Grandmaster Deep Sengupta at 90th moves.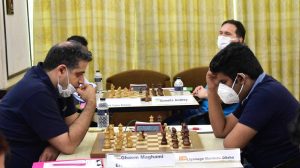 Sri Lankan Candidate Master Liyanage Ranindu Dilshan drew with Iran's Grand Master Ghaem Ehsan Maghami. Candidate Master Dilshan drew 23 moves with Grand Master Gayem with a black pieces.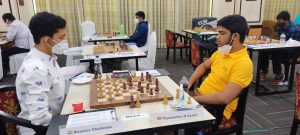 In the 1st round: GM Sumets Andrey of Ukraine beat fM Md Taibur Rahman, GM Mosadeghpour Masoud of Iran beat FM Mehdi Hasan Parag, IM Mitrabha Guha FM Syed Mahfuzur Rahman, GM Malakhatko Vadim of Belgium beat Anata Choudhury, IM Arnoyk Ghosh beat CM Manon Reja Neer, IM Sankalp Gupta beat Shafiq Ahmed, IM Mohammad Nubairshah Shaik beat CM Md. Sharif Hossain, IM Sayantan Das beat CM Sadnan Hasan Dihan, IM Koustav Chatterjee beat CM Nayem Haque, GM Ziaur Rahman beat Swarnavo Choudhury, IM Neelash Saha beat CM Sohel Chowdhury, IM Sammed Jaykumar Shete beat FM Mohammad Javed, GM Alexander Zubarev beat CM Md Jamal Uddin, IM Auyl Adbyjapar of Kyrgyzstan beat Jabed Al Azad, GM Enamul Hossain beat Delwar Hossain, IM Mohammad Fahad rahman beat WFM Noshin Anjum, GM Alexey Kislinsky of Chez Republic beat CM Chanchal Kumar Ghosh, IM Srijit Paul of India beat Showkat Hossain Pollab, Subhayan Kundu of India beat Md. Sariatullah, FM Subrota Biswas beat Murtoza Mahathir Islam, IM Mohammad Minhaz Uddin beat WCM Ahmed wAlijah, Sanket Chakravarty beat FM Md Saif Uddin Lavlu, IM Abu Sufian Shakil beat Kazi Zarin Tasnim, FM Piyumantha Sasith Nipun beat Marzouq Chowdhury, CM Tahsin Tajwar Zia beat Sakline Mostafa Sajid, Sourath Biswas beat WCM Jannatul Ferdous, FM Debaraj Chatterjee beat Md Sajedul Haque and WIM Arpita Mukahrjee of India beat Wadifa Ahmed.
The official inauguration ceremony of the event will be held on tomorrow 20th September, 2021 Monday from 7:30 PM at Sky Ballroom, Level-16 in Le Meridian Hotel. Dr. Benazir Ahmed, BPM (Bar), Honorable Inspector General of Bangladesh Police, President of Bangladesh Chess Federation and President of South Asian Chess Council (SACC),