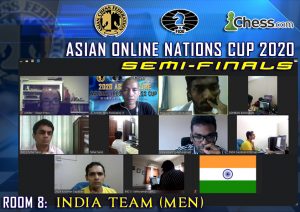 India ousted Kazakhstan while Australia eliminated Iran to set the stage for the exciting final clash in the Asian Nations Cup Open on Chess.com. Watch live games 10am tomorrow Sunday (UAE time GMT+4) on chessbomb. Visit chess-results.com for individual results and to download games. See the bracket chart. Follow @Asianchess on twitter.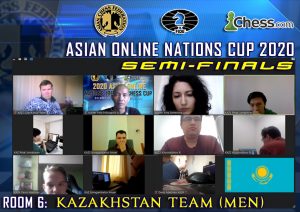 India edged Kazakhstan 2.5-1.5 in the first Semifinal round powered by Indian GM Adhiban's win over Kazakhstan GM Rinat Jumabayev as the other three boards were drawn. In the second SF round, GMs B. Adhiban, Sarin Nihal and S. P. Sethuraman beat Kazakhstan GMs Rinat Jumabayev, Rustam Khusnutdinov and Anuar Ismagambetov, respectively. IM Denis Makhnev saved Kazakhstan from a shutout by beating GM Krishnan Sasikiran.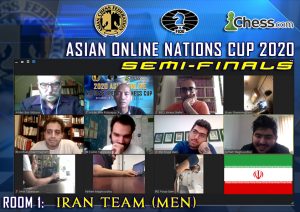 Iran started strong with a 2.5-1.5 victory over Australia in SF round 1 on the win by GM Amin Tabatabaei over GM Max Illingworth as the other three boards were drawn.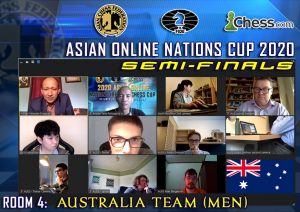 But Australia got their revenge in the second round on wins by GMs Anton Smirnov, Temur Kuybokarov and Max Illingworth over Iran's Puya Idani, Parham Maghsoodloo and Amin Tabatabaei, respectively. GM Ehsan Ghaem Maghami saved Iran from a shutout by holding GM Moulthun Ly to a draw. Australia had lady luck on her side as Parham made a mouse slip on the 18th move and resigned immediately after losing a piece