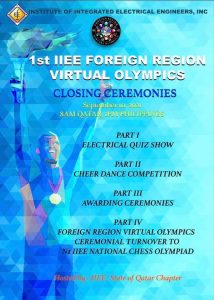 by Marlon Bernardino
The N1 IIEE National Chess Olympiad opening ceremony attracted 96 players on the chapter team battle game held last September 10 at 9pm and 90 players on 7pm Regional Team battle.
Chapter team Bracket A winners:  IIEE Iloilo emerged on top followed by IIEE Southern Laguna (SLC) and IIEE CDO.  Eric Frigillana of IIEE Metro South top the scorer with 13 points followed by 11 of Jeremiah Nolasco (SLC) and 10 by Arjun Crisologo (CDO).
Chapter team Bracket B winners: IIEE Metro Central (MCC) was on top followed by IIEE Cebu and IIEE Camarines (Bicol).  Jorex Colmo of Abu Dhabi-UAE scored 13 points followed by 12 each of Jeff Pascua of Cavite and Joselito Alejano (MMC).
Chapter team Bracket C winners: IIEE Southern Tagalog (BQM or Batangas-Quezon-Mimaropa) gain the top spot followed by IIEE Metro West (MWC) and IIEE Metro East (MEC).  Apollo Zantua (MWC) was immaculate with 16 points Glenn Zenarosa (WRSCA) with 12 and 11 by Mark Eric Pilanga of IIEE Bulacan.
Chapter team Bracket D winners: IIEE Bahrain had rampage as team highest scorer for the day with  41 followed by IIEE Bataan and IIEE Metro North (MEC).  Henry Malinis (Bahrain) topped with 13 points followed by 12 each of Jayson Hilario(Bataan) and Alexander Piad (Bahrain).
Regional Team Battle:  IIEE Metro Manila Region (MMR) with 18 players accumulated 49 points (only top 6 players score counts), followed by IIEE Eastern/Central Visayas Region (ECVR) with 45 and IIEE Southern & Western Mindanao Regions (SWMR) with 41.  The top 3 players are Joselito Alejano (MMR) with 12 points and 10 each by Marlon Bulao (SWMR) and Chester Concordia of Southern Luzon Region (SLR).
There will be special Regional Team Battle on September 16, 2021 during the 20th Eastern Central Visayas Regional Conference.
The Olympiad will be guided by consultant FIDE National Arbiter Richard R. Dela Cruz, tournament director and former IIEE Bulacan chapter president  Norberto De Jesus and 2021 IIEE National President Allan Anthony P. Alvarez