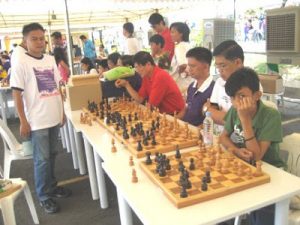 by Marlon Bernardino.
THE 26th edition of España Chess Club Manila, dubbed as "Marianito Faeldonia's 77th Birthday" was successfully completed and National Master Rolando Andador of Talisay  City, Negros Occidental emerged as the champion.
He captivated the chess world after winning the 1995 Philippine Junior Championship. Currently, Andador is one of the top players of Philippine National Police chess team  under the watchful eye of PNP chess coach Joms Pascua.
Rounding up the top 10 are 2nd place Romeo Sadia III, 3rd place NM Jasper Rom, 4th place Ravel Canlas, 5th Teorwin Talapian, 6th place Joshua Bautista, 7th place Jayson Visca, 8th place Ronald Berdera, 9th place, Eric Mordido and 10th place NM Julius Sinangote.
Category winners are Nephtali Bantang (Top RCC), Ezechias Francisco (Top 2000 & below ), Brigido Jr. Cabiguin (Top 1900 & below ), Hilbert Refuerzo (Top 1800 & below), Jerick Faeldonia (Top kiddie 13 under) and Jesca Docena (Top lady).