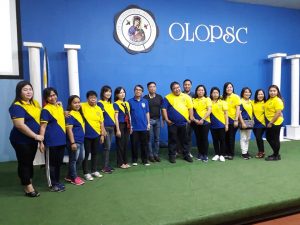 by Marlon Bernardino.
All is set for the 3rd staging of Our Lady of Perpetual Succour's (OLOPSC) "Surfin D' Board" Online Chess Tournament on May 8.
The tournament is a pet project of the OLOPSC Parent-Teachers Association (PTA) according to its President, Sir Errol Bernard Torres. "Even in a pandemic, online chess tournament  is a thriving and welcome activity for our students to showcase their talents and intellectual prowess", said Sir Torres.
A seven round swiss system using 10 minutes plus 3 seconds increment time control format will be staged on the online platform Lichess.org.
Registration is free and is open to all bonafide Grade school and High School students of the school. It also offers a whopping P20,000 worth of cash prizes, plaques, and medals, with each participant to be given an e-certificate. The Champions for both the grade school and high school categories will receive the top prize of P1,500 each, with cash prizes to be given for winners up to 10th places for both categories.
The tournament is held in cooperation with the arbitration team of the Philippine Arbiters Chess Confederation (PACC). Its  Chief Arbiter is NA Ranier B. Pascual and its Deputy Chief Arbiter is NA Ferdinand Reyes Sr.  "We, in the PACC, hope to contribute in spurring the grassroots development of Chess in our country", said NA Pascual.
Among the early registrants of the tournament are Allen Sison, Marcus Rafer, Desmond Pimentel, Keandra and Keira Aviso, Oliver Sanchez, Vince Yu, Xyleen Sunga, Gerome Cubangbang, Yang Lumbre, Mervin Manalang, Jacob Alfonso, Jacques Alog II, Carly Cuaresma, Lance Balean and Arkin Suaco.
According to OLOPSC PTA officer Mam Grace Balean, deadline of registration will be on April 26.
National Arbiter Ranier B. Pascual (standing, seventh from left) is with some of the members of OLOPSC Parent's Teachers Association (PTA) in this photo taken before the global pandemic.