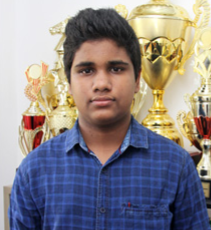 L M S T De Silva wins with dominant performance!
Sri Lanka National Number 3, L M S T De Silva (photo above) of Nalanda College dominated the whole tournament by scoring a grand slam of 7 points out of 7 games at the Inaugural CFSL Online Youth (Under 18Yrs. Open) Rapid Chess Championship 2021 concluded today (18th April 2021).
L M S T De Silva who was sharing the lead yesterday with 4 wins out of 4 games performed excellently well to beat Daham Kusalwin Liyanage, Chenuka Nethvidu & J A K N T Indrajith in final 3 rounds to secure 3 more wins to conclude the event with 7 points out of possible 7 games. He received the Championship trophy and the Gold Medal.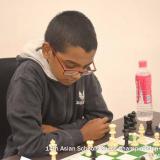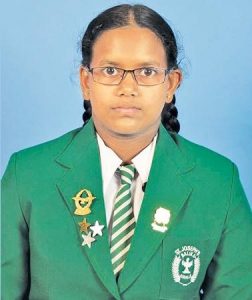 Aruthran Arunakirinathan of Jaffna Hindu College (above left) finished with 5.5 points out of 7 games to win the Silver Medal while J A K N T Indrajith of St. Joseph's BMV, Kegalle (above right) who tied with 7 other players, Chenuka Nethvidu(St. Aloysius College, Galle), Sanupa Bimsath Marapana (Maliyadeva College), Tuan Ehshan Pallie (Isipathana College), Ravindu Sandaruwan(Mahanama College), K G T S D Kiriella (Maliyadeva College), B Janukshan(Jaffna Hindu Primary School) & Lisara Tennakoon(Dharmaraja College) with 5 points each had the better in the tie breaker to win the Bronze medal. Chenuka Nethvidu secured the 4th place.
The Inaugural CFSL Online Under 18 Open Youth Rapid Chess Championship 2021 conducted by the Chess Federation of Sri Lanka was successfully held on 17th and 18th of April 2021 via the Chess.com Platform. A total of 53 players from all over the country participated in the event which was conducted based on Swiss System for 7 rounds with the time control of 15 minutes + 10 seconds increment per each move played. Age was considered by the 1st of January 2021.
The event was conducted with the highest precautions for anti-cheating regulations where only the laptops and desktops with a webcam was allowed to use for playing. All players were compelled to be in a Zoom meeting arranged by the organizers throughout the round with cameras and microphones switched on. All screens with the task manager is shared in zoom where the arbiters were closely looking at the players while playing. The games were also checked with FIDE approved programs to check whether they are clean. The CFSL has announced two-year ban on any player found guilty by any of the above measures.
Final Standings of top 10 players are as follows.
| | |
| --- | --- |
| Name | Points |
| 1.      L M S T De Silva | 7,0 |
| 2.      Aruthran Arunakirinathan | 5,5 |
| 3.      J A K N T Indrajith | 5,0 |
| 4.      Chenuka Nethvidu | 5,0 |
| 5.      Sanupa Bimsath Marapana | 5,0 |
| 6.      Tuan Ehshan Pallie | 5,0 |
| 7.      Ravindu Sandaruwan | 5,0 |
| 8.      K G T S D Kiriella | 5,0 |
| 9.      B Janukshan | 5,0 |
| 10.   Lisara Tennakoon | 5,0 |
You may find the complete list of final standings from the link here: