The Western Asia Online Chess Championships started on 18th  of September 2021 with the participation of more than 850 players from 15 Countries on the Totnelo Platform. The Countries of Bangladesh, India, Iran, Jorden, Kazakhstan. Kuwait, Kyrgyzstan. Maldives, Nepal, Oman, Palestine, Syria, UAE, Uzbekistan and Sri Lanka are in the race for the championships. Visit chess-results.com for round by round pairings and results and to download games.
India has fielded the highest number of players, 380, Sri Lanka 200 and Iran 161 with others completing the rest. Indian players are dominating the event with a great resistance from Iran and Central Asian Republic Russian speaking Countries. Sri Lanka's International Master, Harshana Thilakarathne is in Under 18 Open category.
The event conducted by the Asian Chess Federation is organized by Chess Federation of Sri Lanka. It will be in progress on 19th and 20th also. The Open and girls categories are divided to two groups where the girls' category is started at 11.30 Sri Lankan time while the Open section starts at 16.30 Sri Lankan time each day. The time control is Rapid Chess Time control of 15 minutes + 10 seconds for each and every move played.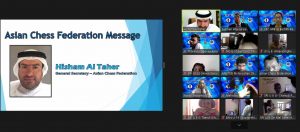 The small and respectable Opening Ceremony was held at 11.00 o'clock Sri Lanka time on 18th with Mr. Hisham Al Taher, the General Secretary of Asian Chess Federation as the Chief Guest. Hon. Namal Rajapakse, the Minister of Sports of Sri Lanka has also sent a recorded message to encourage the participants. Mr. Al Taher was delighted with number of participants and praised the organizers for their hard work and declared that the Asian Chess Federation is conducting a number of events with the idea of strengthening Asian Chess. He wished all participants success.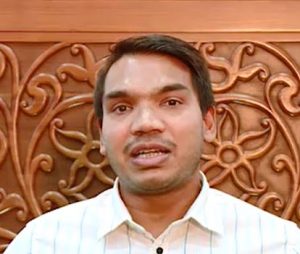 Hon. Minister stated that with the strategic structure in the game Chess can be used to develop our own life. He said that he believed that event has a competition of world class and wished all players best of luck!
Mr. Luxman Wijesuriya, president of Sri Lankan Chess Federation, speaking at the event said that they are doing a lot of programs to uplift in Sri Lankan Chess. But, they are always ready to support for upgrading Asian and World Chess whenever possible.
The Champions of each age group is selected to play in the FIDE World FIDE Youth & Cadet Chess Grand Prix 2021 next month the most prestigious age group event held in first time.